Production scale and demand
Modern kitchens stand out for their trendy design, eccentric elements and high quality equipment. Linea kitchens are always ahead of the curve. That's why we have such an impressive daily production scale.
OPENING SUPPORT MECHANISM
You no longer have to lean down or use your hands to open the bottom kitchen drawers. New technology puts usability first! Electromechanical or sensor OPENING SUPPORT MECHANISM systems make it easier to open drawers in Linea kitchens. Today, even a light touch of the knee or foot on the bottom drawer is enough to open it easily. So there is no need to touch the drawers with your hands, an important feature since your hands are usually full of other things.
SERVO DRIVE
It is not always easy to open drawers, especially the upper ones. But now it's time for modern Linea kitchens. We would like to show you how the Servo Drive unit with electric motor works for kitchen cabinets with hinged swing or folding / lift-up doors. Servo Drive allows you to open wall cabinets with just a light touch of the palm of your hand, and easily close them with a switch integrated in the enclosure. This opening and closing system enjoys many positive reviews and is extremely easy to use.
Quality for all price groups
1.

High quality kitchen manufacturing

Unique precision in the positioning of all elements and mechanisms along with many other aspects of quality are ensured and guaranteed by robotic production.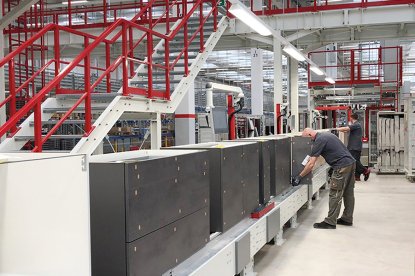 2.

Product certification and quality marks

As a worldwide supplier, the Linea kitchen manufacturer is highly committed to customers and employees, products and production processes. The quality of our products and services is the company's main goal and a key prerequisite for our success.
The GOLDEN M German quality mark is recognized both on a national and international scale and is one of the top quality certifications. It means that consumers can be confident about first-class quality as well as sustainable production of our kitchens.
DGM emission label meets all world requirements, and Linea kitchen furniture has been awarded the best emission class A.
GS (Geprüfte Sicherheit) is a certificate issued by the LGA in Nuremberg. The LGA is part of an international service group and represents the largest and most important furniture testing organization in Europe.
Linea furniture possesses the following international quality certificates:
DIN EN ISO 9001: 2015, DIN EN ISO 14001: 2015, DIN EN ISO 50001:2018.

"Quality means meeting requirements. That's why it is necessary to have a precise understanding of requirements in order to convert them into measurable criteria and to monitor compliance with those criteria. As well as supervise the entire product lifecycle, covering development, production and delivery."
Dr. Maik Schlickel,
Quality Management Director
3.

Kitchen testing in the QC lab

Our in-house QC test laboratory performs large-scale tests on furniture, components and materials to check their suitability for daily use. They are expected to last for 15 years. All the materials used are tested for this minimum service life. The Linea kitchen manufacturer has introduced a comprehensive inspection system for all phases of production, ranging from incoming goods through to production and delivery. In addition to the test benches, 21 kitchens are subjected to a complete quality check every day. We guarantee the quality of the kitchens to the smallest detail.
During reagent testing, the kitchen surfaces must remain unchanged for a specified period of time according to the wear group. For example, kitchen surfaces are tested when exposed to acetone, vinegar, vegetable oil, abrasives that create scratches, etc.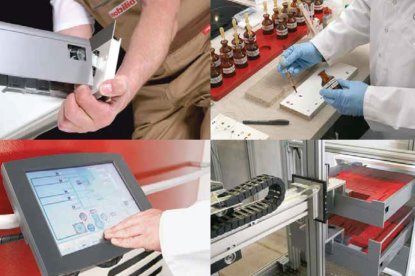 4.

International awards

The designs used to produce our kitchens have been awarded the highest international prizes and awards. For example, the SENSYS wide-angle hinge used in Linea® kitchens won the Red Dot Design Award 2014, as well as the iF Product Design Award 2014 for outstanding design.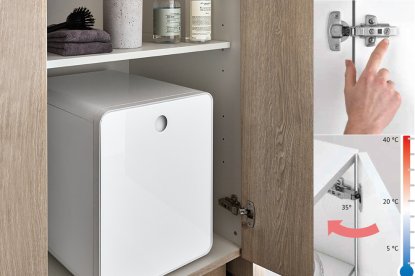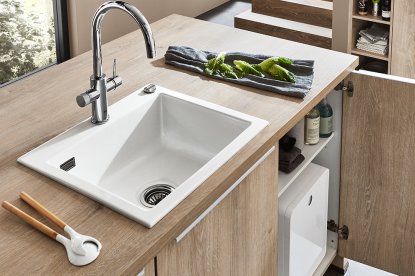 Looking forward to seeing you
Su-Th 10-18.30, Fr 10-14
Address
Titanium Office Place,
4 Hagavish st. Netanya 4250704
Reliability
Shelf load 50 kg per 1 m2
Stunning shelf loading possibilities! All shelves (including loose ones) can handle loads up to 50 kg/m2. This is equivalent to more than 80 dinner plates. Simply put, it's a bargain!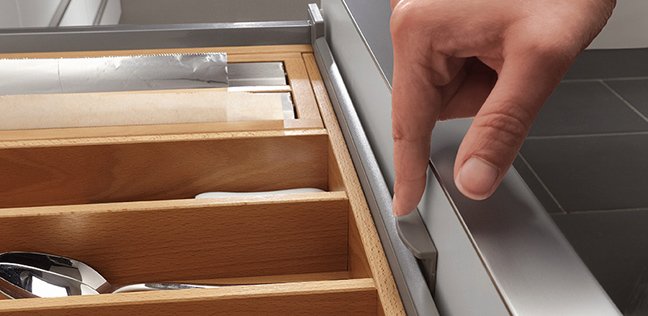 Metal steel frame
The Profi+ drawer system is made of very high quality steel, which gives them superior modern look and timeless style.
The frame has a double silver finish.
Climatic testing
Climatic tests include sudden changes in temperature
(-20°C to +50°C) and humidity,
cycles in accordance with global DIN standards.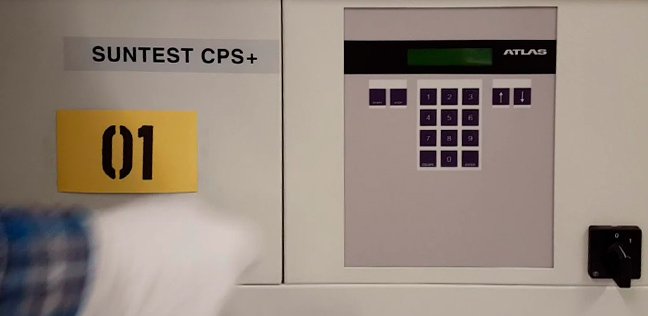 Light testing
The surface of the furniture is tested with UV lamps to create an aged effect. We can accurately determine the degree of discoloration of the facades over time and avoid color deviations.
Feedback received from our loyal customers